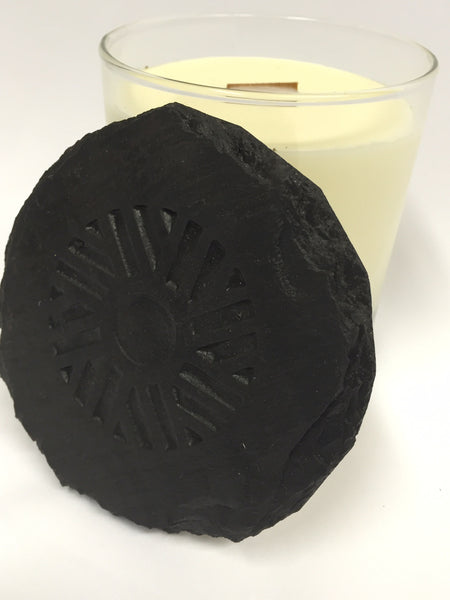 Made with 100% natural soya wax, handmade with a large wooden wick which allows for a full melt pool. Not only does this mean no wax is wasted when the candles burns, a large melt pool also provides a better scent throw. They are housed in a good 12oz glass tumbler and capped with a handmade welsh slate toper, which doubles up as a coaster when the candles are fully burned.

Burn Time 60 hrs

Presentation Box included.    Made in UK

Tips - From Me to You
I am fussy about candles and using the right wax.  I prefer Soy wax for a number of reasons – one being they give a clean burn (better for your home! as there is no black marks on your wall), better melting pool means no wastage (no tunnelling) with a good melting pool you get a good scent throw. Another bonus with these candles is slate coaster which can be used during and long after the candle has gone.

Soy Wax is soluble so easy to clean out glass when the candle is finished and then you have a glass & coaster for your Gin & Tonic!!!
 Care: Remember never leave a candle unattended

Tip: Remember when lighting a soy candle for the first time, allow the wax to melt all the way to the sides of the container. This will give you maximum fragrance and an even burn. If you do not allow the wax to pool on the first burn you may get wax remaining along the sides of your container.

When blowing out your candle use the lid to reduce the smoke.